It is starting to get chilly in the mountains of Wyoming. Camping next to North Piney Creek last weekend our thermometer read 15 degrees at 6:30 AM, though it warmed up quickly with the sunrise and daytime temps were in the 70s. The fish took a while to warm up, too, so you have plenty of time to sleep in AND climb to the top of the mountains behind you and look for antler sheds. Or you can explore Piney Creek Trail. Or catch up on your reading. Or bury the very dead and very decomposed animal by the river so the dogs don't eat any more of it. We spent Sunday morning watching coyotes and cows across the river.
North Piney Creek is a stunning place to camp and fish, tucked in a fairly narrow valley in the Wyoming range, outside of Big Piney. There are surprisingly deep pools with some tricky, exceedingly spooky fish. Creep up from behind and perfect your casting. We caught some cutthroats, but not that many. RK had an otter encounter, which was pretty rad.
Middle Piney Creek, right next door, is smaller with faster moving water. There are endless small pools filled with hungry, hungry brook trout. We parked a short way up from the national forest sign and walked up the river for an hour or two. Definitely worth it.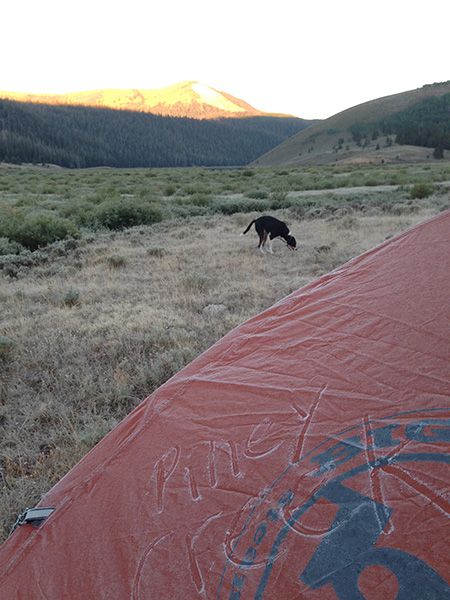 Details:
Camping: Awesome dispersed camp sites on the North Piney Creek. And like I said, it was cold, so bring your layers and warmest sleeping bag.
Coffee: We continue our love-fest for the rediscovered pour-over coffee. The stove top espresso pot is taking a much needed rest.
Cocktails: Gin and Tonic and Vermouth and Tonic.
We found an interesting gin at the liquor barn in Evanston, made in Wyoming by Backwards Distilling. It has a very curious but delicious flavor. They are making grain to bottle booze which is something I have been interested in for a while. Get some!
Vermouth and Tonic is the sport beer of cocktails. Lightweight, refreshing, and makes for an excellent drink on the river:
1 ½ ounce dry or sweet vermouth (I used Ransom Dry, which is very herbaceous)
¾ ounce tonic syrup
juice of half a lime
bitters (I would recommend lemon or some other citrus forward flavor with dry vermouth. If you go with sweet vermouth, an aromatic bitter would be lovely.)
soda water
Fill your glass (or small insulated bottle) about 2/3 full with crushed ice. (What? You don't take crushed ice camping?!?) Add the vermouth, tonic syrup, lime juice and bitters and stir. Top with soda water.
Fish: Cutthroats in North Piney (we caught up to ~16″), little Brookies in Middle Piney.
Flies: As far as I can tell, yellow is the favorite color of fish in Wyoming. Take a caddis or two, but make sure you have yellow stimulators with legs.