We headed up to Wyoming for Labor Day weekend with some loose plans, a few ideas and the potential to fish, ride and camp with friends.
After a lazy Saturday AM departure, we set out for a small ranch outside of Boulder, WY that sits right on the bank of the East Fork river. On the way we took a detour up LaBarge Creek which, rumor says, is full of trout. Alas the road was more cratered than drivable and continuing up it seemed like it would get us to Boulder too late for dinner. We detoured again to walk the dogs and check out the New Fork river at the New Fork River Crossing Historical Park. This is a fantastic place to walk the dogs and have a snack in what feels like a permanently desolate parking lot. The river, though, was bathtub warm and not good for fishing. So we drove on all the dirt roads surrounding Boulder until we found the little ranch on the river and were greeted by an amazing dinner, cocktails and a spring-fed pond full of absolutely giant trout.
Not only that but we slept in a cabin! So deluxe! We saw a beaver, a mink, 3 moose and heard a whole posse of coyotes and gaggle of geese. We are spoiled rotten.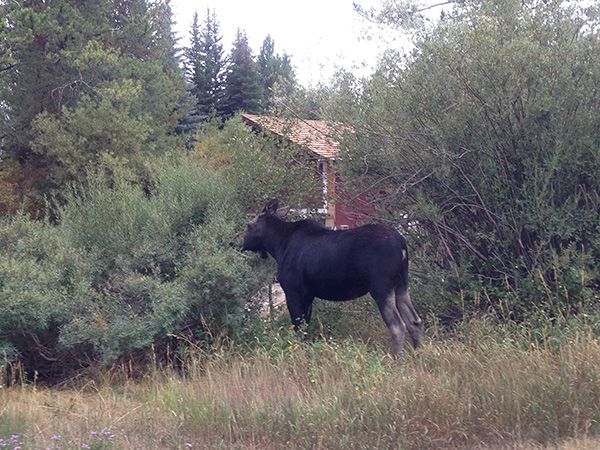 Where to next? Friends were camping on Teton Pass, though thinking about leaving due to grumpy weather. We packed up and headed their way anyway, knowing that mountain weather is notoriously fickle. Not only did the friends stick around, but the weather turned gorgeous and we headed out for a ride on Phillips Canyon trail, which is perhaps the most fun a person can have on Teton Pass without being scared. We had time to set up our tent and hang out for a post-ride cocktail before heading down the pass for dinner with brother and sister-in-law and hey! We showed up with time for a hot shower before another delicious dinner. SO spoiled.
Back in camp we sipped a bit of whiskey with the crew before hunkering into our tent. There was a fairly intense thunderstorm in the night (nothing like a few millimeters of nylon to keep you safe from lightning and extreme weather, also wild animals), and just enough rain to tamp down the dusty trails. While our friends packed up their children and headed home in the morning we headed out for another ride on nearly perfect trails. It alternated between ominously cloudy and cold and brilliantly sunny and warm, before settling into a bluebird afternoon. Smiles, snacks, coffee, tired dogs and a not-so-very-long drive home. No set plans had turned into a nearly perfect weekend.