We all have places that make our hearts expand and our minds calm. Favorite places that we visit and re-visit like a reliable best friend. Sometimes, however, you can be a hundred steps onto a trail you've never been on before and realize it is a home you never knew you had. This is what it feels like walking and fishing the Upper Deschutes River.
Running parallel to the Cascade Lakes National Scenic Byway, the Upper Deschutes has multiple access points off of the road. Drive through the volcanoes and the lake-and-trailhead crowds and pull off wherever suits your fancy.
The Upper D is more like an alpine creek than a river. It's narrow, cold and clear. The banks are exploding with corn lilies, lupine, and other wildflowers. There are lots of fallen trees to scramble over and thigh-high grass to lose your flies in, and you should watch out for deep holes and stream-lets that are covered by grass comb-overs. There are views of volcanoes, few people, and an abundance of wild fish.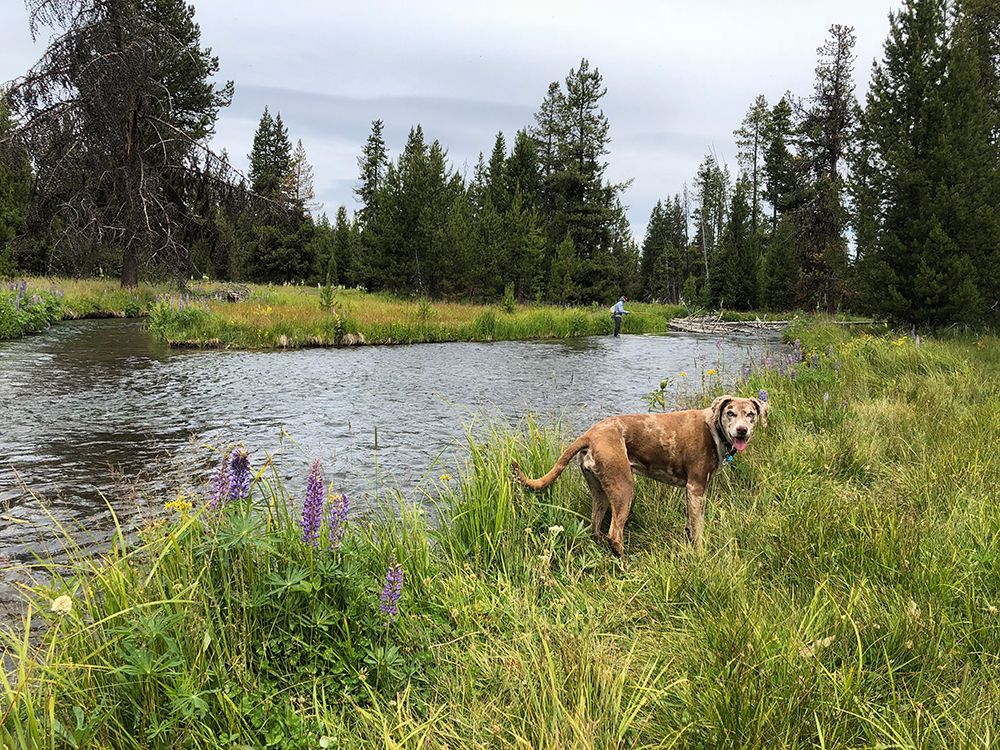 Trout on the Upper D are not large, but they are hungry, feisty and plentiful. We caught several in the 9" range (which we were told is a good size for this section of river), as well as countless fish in the 6-8" range. There were rainbows and brookies in every riffle, hole, and log jam we saw.
This was my first day fishing since I had my shoulder repaired. I took a break on a little sandbar to assess my soreness and drink the beer in my pack. Strong IPA on an empty stomach was the beginning of the end.
I had been so successful with my parachute Adams that I decided to switch flies and try a yellow stimulator (which also works). The stimulator caught a pine branch, however, and while RK rescued it I started to tie on another. Both flies were lost in the grass simultaneously. Poof! Another fly broke when I was pinching the barb, Emma went head first into a hole and we decided to call it a day.
If you like creeking you will love the Upper Deschutes. If you like catching fish or looking at wildflowers or being in a gorgeous alpine forest you will also love it. Grab your 3-weight rod, a nice selection of dry flies, and prepare to have a fantastic day. Don't forget the snacks.