Spring break — a week to seek out sunshine in the desert or at the beach! We decided to risk it and head west and north to see what we could see.
Driving across Nevada often feels like looping deja vu. Up a mountain pass, down a mountain pass, across a valley, and repeat. Typically there are clear skies, sagebrush as far as you can see, semi-trucks, minivans, the occasional highway patrol. Last week we drove west through wind, snow, snain, hail, and sideways rain, with a constantly changing sky as RK white-knuckled the driving through the desert to Winnemucca, past exits like Ola and Shafter, and then we headed north and everything decided to settle down.
Our destination was loosely the Alvord Desert, but a one-thumbed fellow in a greasy shirt (who had a three-legged, one-eyed dog) at the Fields Station in Fields, OR (an oasis with micro-beer on tap, milkshakes, and expensive gasoline) told us about a nice camping spot at the base of the Trout Creek Mountains. We found it on the map, but once you leave the main road there are no road signs, BLM signs, or other indications pointing to the place. Our atlas is not accurate, it turns out, but we got lost only once, and eventually rolled up to the Willow Creek Hot Springs. Two clean, steaming pools with a BLM pit toilet and a handful of camping sites. Willow Creek itself is a haven for beaver, geese, ducks, grebes, owls, red-winged blackbirds, wrens, and loads of other birds I did not identify.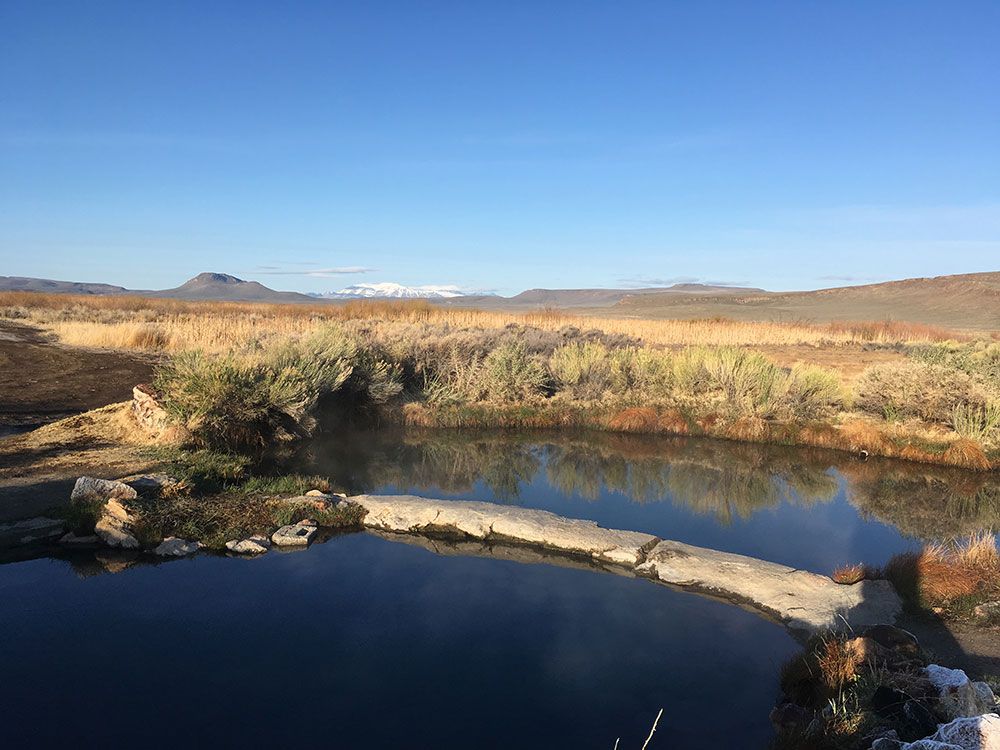 I have heard that the Trout Creek Mountains are the most remote range in Oregon, and I would believe it. On a Saturday night, there was zero road noise, no airplanes overhead, no city lights in the distance. The geese will be your alarm clock around 6 AM. If you need help finding the place, let me know.
As for the Alvord Desert, it is basically a dried-out lake bed on the east side of the Steens Mountains. Cows are plentiful on the grasslands. We passed through a herd on the road, being rounded up by a cowboy with a blond mustache that draped in curlicues down around his mouth and a purple and pink polka-dotted bandana around his neck. But the Steens stole the show, with steeply dramatic faces and high, craggy peaks layered in snowfields and dark rock bands.
Several days later we drove on the west side of the Steens, through the Catlow Valley, which is a high desert basin that stretches about as far as you can see. Mountains with names like Lone Mountain line the horizon. There was an asphalt airstrip and No Trespassing signs on the barbed wire fence every quarter mile or so to indicate a boundary of Roaring Springs Ranch, which I have since learned comprises 280,000 acres, with leasing rights on an additional 800,000 acres of BLM land. There were no buildings or houses of any kind, that we saw, and zero cell phone signal. And actually very few cows. It was beautiful, lush, sagebrush plains up there and felt like the farthest I have been from anywhere in a very long time. Even the Utah desert feels less remote than the Catlow Valley.
As we dropped down from the plateau, we found ourselves back at Fields Station. We stocked up on cookies before heading back to the hot springs camp because really, why pass up something that lovely. The weather this night was not as nice. Constant winds of at least 30 MPH really got going after dusk. We woke in the night to the sound of rain spitting on the tent, in addition to the wind. The morning was calmer, enough for a hike up the hill and a soak in the pool before packing up and heading out. We had hoped to spend a day or two exploring the Trout Creeks, but the next session of rain was on the way and would likely make the clay road impassable.
Spring weather has been a beast this year, and we did not get to fish much or bike much, and we headed home early through storms and insane crosswinds. But the places we saw, the vistas, the vastness, the incredible number of raptors, and the variety of clouds, are resonating still in my mind. It was not a week spent as anticipated, but it was a week well spent.