We usually stay home on 3-day weekends to avoid the crowds, but this Memorial Day we were jonesing to sleep outside and figured we have a whole lot of experience finding solitude in Utah…
How to Avoid Crowds on a Holiday Weekend
Take a leisurely departure on Saturday morning. Most people funnel out of town on Friday afternoon, and where we live, this includes not just cars, but also RVs, trucks, and really big trucks pulling trailers, really big trailers, boats, really big boats, ATVs, and fleets of ATVs. We took our time packing up on Saturday and rolled out of town around 9:30, with clear roads, no traffic, and no aggravation.
Surprisingly, you don't have to avoid popular destinations, but you do need to be strategic about what you plan to do there. For example, if you go to a lake where people like to fish from boats, maybe there is a trail around that lake that gets little use? However, avoiding popular areas is also recommended.
Stay as nimble and flexible as possible. If you don't pull a trailer your camping options open exponentially. Make all your own meals and you never need to go into a town. If there are too many people at the river, check the atlas for a nearby creek that might be less busy.
Head home early or very late on Monday.
Fish Lake Adventure Run
Many years ago we had a fairly epic hike on the trail that loops around Fish Lake, and it occurred to me that it would make a great trail run, especially if it was shuttled to avoid the section along the road. RK dropped me off at Pando (the oldest living organism on earth!). I saw 3 separate flocks of white pelicans, families of geese, a jackrabbit, snowfields, more downed trees than I could count, and no one else!
As I was running, I remembered all of the boulder fields and tricky, steep, loose sections that I had forgotten from the last time I was there. I took slightly longer than my generous time allotment, due to disappearing trails, challenging downed tree navigation, some tree removal, snowfields, and boulder scrambling. All of which made for a very successful adventure.
RK and the dogs were waiting at the trailhead at the far end of the lake and we headed out to find some fishing.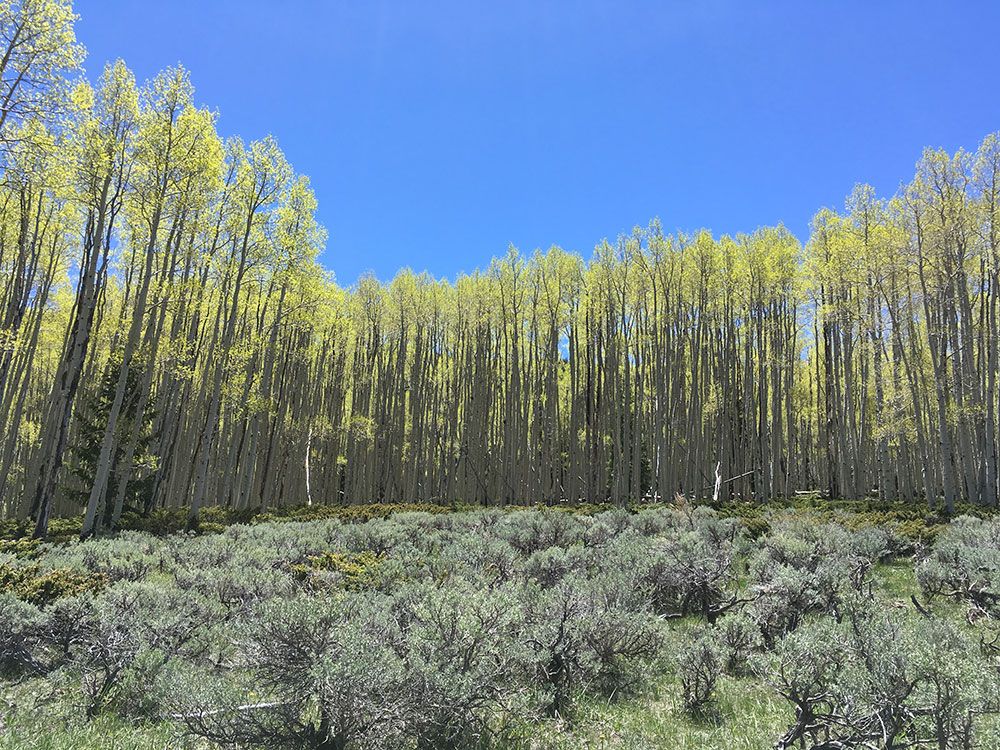 UM Creek and The Fremont River
UM Creek was flowing fast, full and furious but it was worth a look and a stroll. We will be back. The upper Fremont River was also running full, but there were ample opportunities for high-water fishing practice and some nice little brookies were caught and released. Most of us have heard the fly fishing advice that "rocks rock." This seems to be especially true in runoff season.
We followed a dirt road and pulled off into a wide-open valley and found a gorgeous camping spot. Other than one solitary truck that drove through, we had the valley to ourselves. The dogs found a dead deer and a rabbit leg, we cleaned up a few cans and bottles, and will definitely return.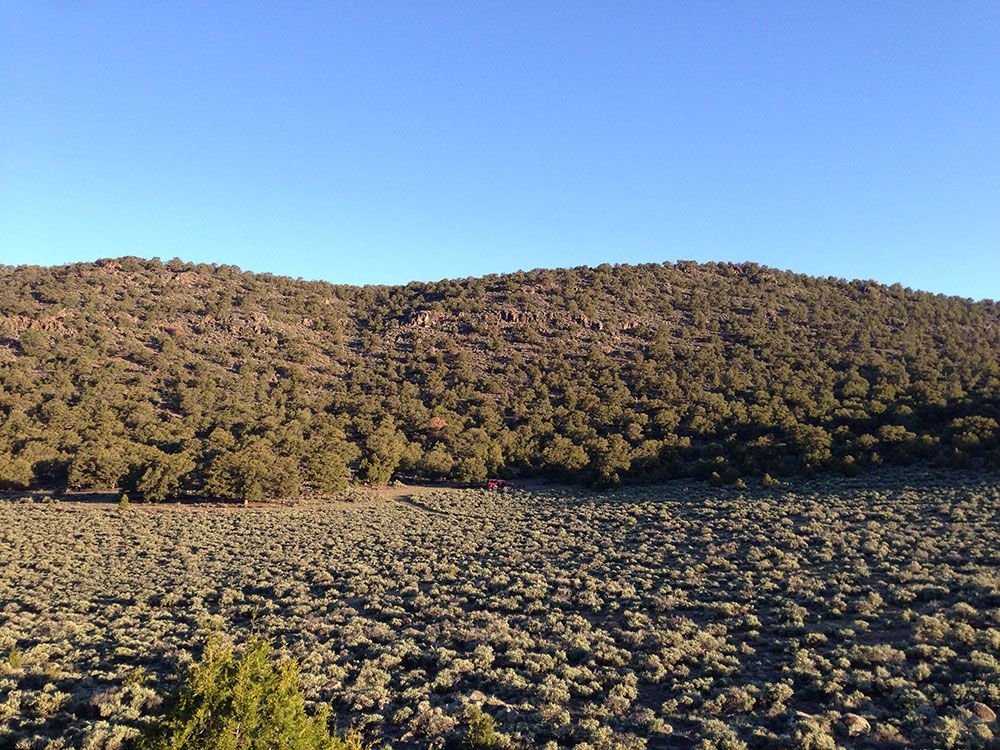 Cathedral Valley
One of the best things about Utah is that you can spend the night in the woods, in the mountains, drive down a dirt road, and pop out in a national park. I have always wanted to see Cathedral Valley in Capitol Reef National Park. There were a few people, but not many. It's a rough road, it's remote, and I was not disappointed by the sandstone formations. At each of the "sites", we only had to wait a minute or two for any other people to take a peek and drive on.
Boulder Mountain
Several years ago we discovered some of the merits of Boulder Mountain when we were being swarmed by ravenous cedar gnats in the desert. It's high, it has trees, it has water and it does not have cedar gnats. It does, however, have extremely rough roads, tons of dead wood (making creek navigation somewhat treacherous), and a pretty serious amount of ATV users. We found an okay camping site, made much better by its proximity to Fish Creek. The forest is super tight, but there are many feisty hungry brookies in the creek. Every pool has one, and they are small and eager.
We took a lovely hike up to Blind Lake (sources say there are 5-pound splake in that lake! What is a splake? It's the offspring of a male brook trout and a female lake trout. Now you know.). We did not catch fish at Blind Lake, though a fish was seen… we are clueless when it comes to lake fishing, especially when they aren't rising. I used the time to practice casting poppers, and the dogs got a chance to hang out in a small snowbank in the shade.
Sevenmile Creek
The Gooseberry scenic byway is no longer gravel, but it also was not plowed, so we were not able to take a look at Gooseberry Creek. We did attempt some fishing at Sevenmile Creek but are clearly not yet high-water experts. Another place to revisit soon.
Other than a stop for gas in Torrey, this weekend was shockingly crowd-free. We blew the re-entry by heading into town at prime driving time and accidents made a rare, but painful, traffic jam. But thank you Moab, Fruita, and St. George for absorbing the crowds so that we could have some places to ourselves!