Many years ago, when I lived in San Francisco, someone asked me how to go camping. They had never been. I had never met a person who had not camped, had no memory of being a person who didn't camp, and it was hard to know where to start. That was back when I still camped in campgrounds, where they generously provide tables, toilets, and water. Sometimes, you can even make a reservation to make sure your spot will be waiting for you.
These days, we camp dozens of weekends a year, but we hardly ever camp in a campground and often don't even know exactly where we will be when we start to think about a place to put our tent. Camping is how we eat and sleep in the outdoors, which is a little bit different from camping as the main event.
A friend of ours recently came over with a bunch of maps and asked for our advice on selecting some weeklong summer vacation adventures. No problem! Our favorite thing to do is head out with a general direction, casual destination, and no certain plan. How do we do this and still have a successful (meaning fun) weekend?
Define Your Goals: We aren't really goal-oriented people, but sometimes you want to be far away from people or want to ride your bike, or go creeking. Sometimes it feels important to be somewhere new, other times we seek familiarity. It's helpful to have something in mind when you consider which direction to go for your weekend adventure.
Weather: We all have different definitions of "good" weather. I encourage you to push your limits with this. The odds of experiencing solitude increase dramatically with the ability to tolerate colder or hotter temperatures, rain, snow, wind, mud… There is a sweet spot where a warmer jacket is the only thing needed to have an A+ weekend. Learning to read the weather and knowing how to check or guess the conditions is a useful skill. Reading the temperament of other people's camping plans is crucial. Avoid 3-day weekends, for example, if you want to go to a popular mountain biking destination.
4WD: It is not required to have 4WD, but you have a much bigger world to explore if you do. This is also true with trailers, which might be nice once you get there, but what a burden if the road is a rutted, rocky, high-clearance situation.
Gear: Our camping gear is a long-term project in refinement. We have it pretty dialed, at this point, and so packing is quick and easy. All the essentials live in a small tub. The rest (tent, sleeping pads, pillows) go into a large duffel. Most importantly, water goes into a 5-gallon jug, with an extra 3-gallon container if it going to be hot or we are going for more than 2 days. Or we are going somewhere particularly isolated. Don't forget the shovel and a headlamp. I believe it is important to keep the gear minimal. The idea is to be comfortable eating and sleeping outdoors and to be nimble. You do not need to re-create your house to be successful.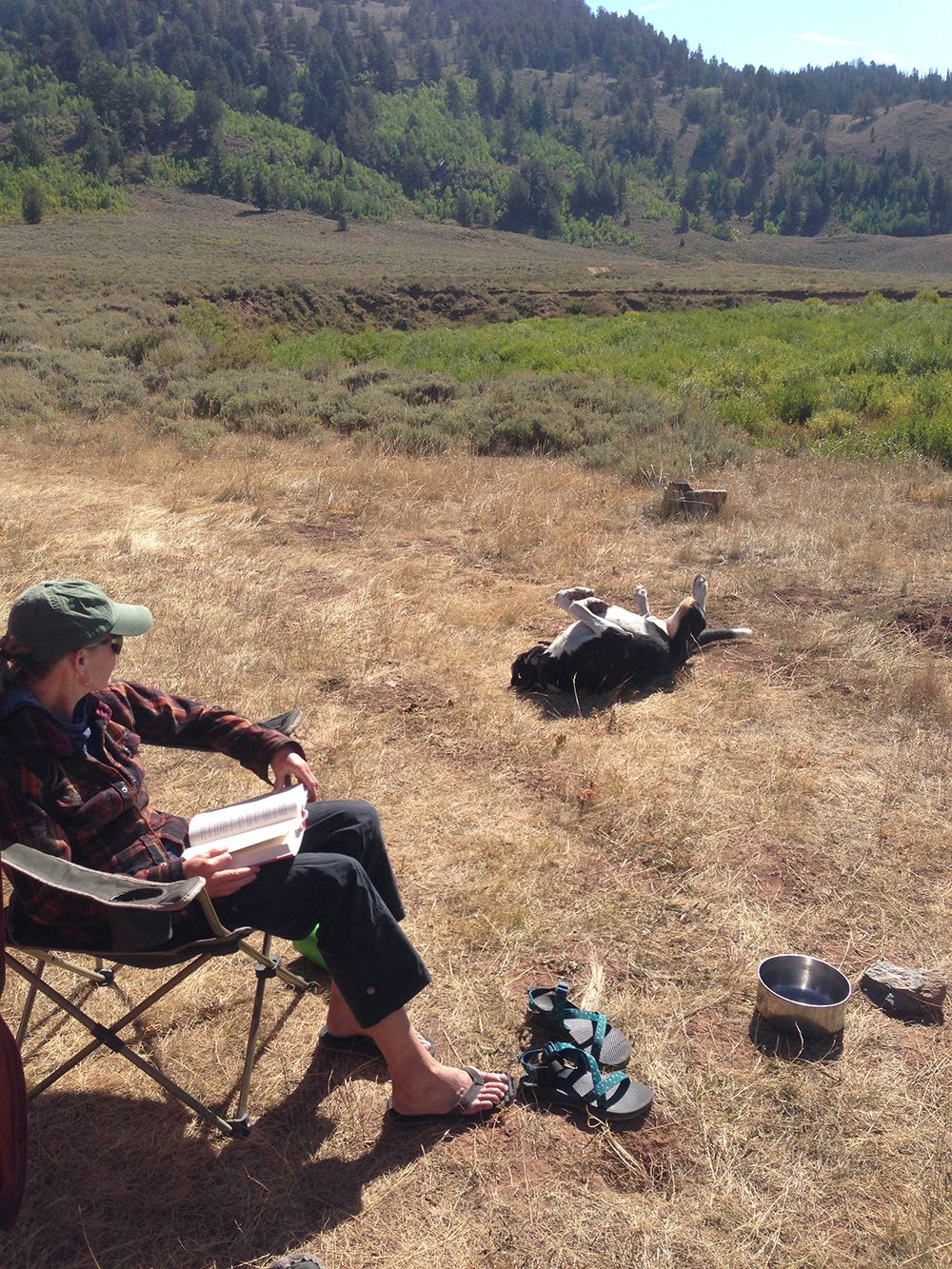 Provisions: I have a list of delicious, easy-to-make dinners for camping. We pretty much always have the same breakfast, snacks, coffee, and cocktails when we are camping. It's important to simplify or be highly organized because forgetting the coffee or the eggs is a bummer. If we are going to Wyoming, we know we will stop for beer in Evanston.
Dirt: It is pretty much essential to be okay with dirt, and a lower level of hygiene. Take the soap, by all means, and even a solar shower if you are fancy or intend to get super sweaty (it's awfully nice after a bike ride or run). But there are dirt roads, dogs, rivers… you just get dirty camping. It is so much more relaxing if you can embrace it rather than freak out about a little dust in the dinner. Don't take your best, cutest, newest technical clothes. Just don't.
Clothing: Always bring a beanie, a down jacket, and extra socks. I tend to overpack, bringing three tees for a weekend and wearing one, maybe two (see "dirt" above). I like to have enough to stay warm, and then consider what happens if anything gets wet or torn. Do I have a backup plan? That's all I need.
Atlases: A map is not really enough, and GPS doesn't cut it for adventure. You want to know where the dirt roads are, and where the creeks are, and where the trailheads are, and you need the big picture as well as details. It's best to have a driver and a navigator as you head into the unknown. The more you get to know the dirt roads and the terrain the better you will get at choosing a route. The Benchmark series of atlases are the best we have found for the west. But there is always room for improvement (please let me know if you have a better resource). Make sure you understand where there is public land versus private land, and learn the rules for dispersed camping where you are.
Flexibility: Let's say that the canyon in that mountain range looks promising, and you've read there is good fishing in the creek. But once you get there the camping is meh. Just take a look at the map, identify a new road and see what you can find. Last fall we headed up a canyon in Southern Utah to see about the fishing. There were a couple of camp-able spots near the river, but the cows!! Holy moly. We high-tailed it to higher ground and found a campsite with incredible views of the Grand Staircase.
Curiosity: You are all set once you decide that there is a place you want to see or know more about. Checking out the places in between the "destinations," the land that is not really on the collective radar, helps us appreciate how incredibly lucky we are in the west. We can look at a map, drive there, camp, fish, hike, bike, let our dogs run around, look at the stars, listen to silence (and birds and coyotes), and it is free and we already have permission.
I could provide you with a checklist of things to take with you, but everyone has different things that they deem essential. The idea is to keep it simple, stay flexible, and make sure you have what you need to be comfortable. For us, that is lots of down, coffee, and whiskey.