My dog Mack is the official love dog, but the story of true love in our house starts with the scrappy Catahoula, Emma. I never wanted a dog (you can't leave town! They are so dirty! They eat poo!) but I worked at a dog-friendly company and all the employees with dogs took lots of breaks, and I thought it was either get a dog or take up smoking.
We went to the Super Adoption, just to look, where all the most adoptable animals from around the state are brought to the big city. It was 90% border collie or black dogs, all very cute, jumping up in their cages and begging to be chosen, but not my style. There was a huge hound dog, taller than me when he stood on his back legs, that I admired. But I couldn't imagine him in our tiny kitchen. After a lap through the maze of kennels, I thought we were free and clear. But then we took a second look at a crate holding a super shaggy, very friendly black dog, and laying in the wood chips behind it was a bobble-headed, brown speckled dog with crazy eyes and we were smitten.
We took her home, gave her two baths, and then she crashed out so hard, it seemed it was the first time in her life she had been able to relax. After that, it was mostly trouble. Her voracity for chewing was epic. We ended up buying her the "wolf" size, extra durable rubber chew toys and she would destroy them in an afternoon of focused effort. Our belongings, fortunately, were mostly left unscathed. For a while, she did have a habit of tasting things, just one bite, out of each shoe.
When Emma does what you want, you know it is because it is what she wants. She is very clear about that. You can train her to do anything if there is food involved. No food, no bueno. Many years ago, I went to a 30-minute meeting and by the time I came back, my co-worker had taught her a new trick. I don't remember what that trick was, because we are lazy with tricks…. but the point is, she is supremely motivated by food.
If we had no treats on a hike, Emma was off chasing all the deer until she was done. She was exploring the bushes at her own pace and didn't necessarily keep up on the bike ride. She might meet you at the car or she might take a 30-minute detour. I remember standing on trails and yelling "Emmmmmma," listening, looking at the empty hillsides, waiting. I learned to let go of rage because she gave no fucks if I was mad or not, so why let it get to me.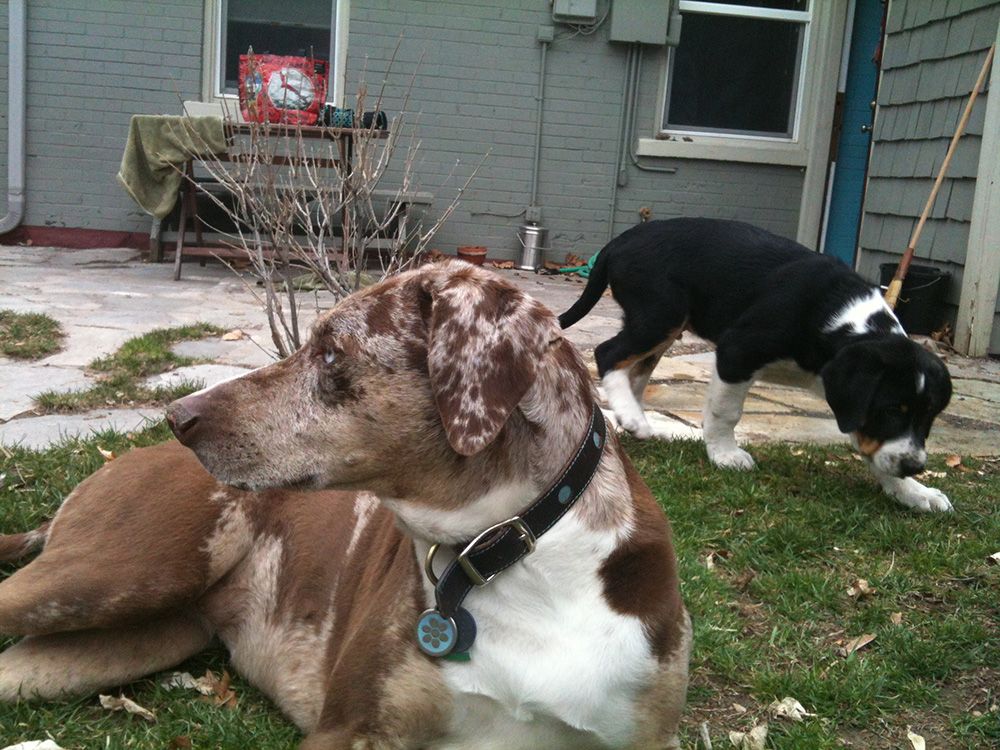 When we got the puppy, Emma thought he was an okay dog until we brought him home. WTF??? Suddenly everything she had taken for granted in the house was hers. Even the cat. Before long, however, she relaxed and realized that the puppy would do whatever she wanted. She thrived in the role of master manipulator. "Hey puppy, use that big nose to find us a rabbit to chase. Let me know when it is time to go." Her life became so much easier. No need to make a big loop away from the trail, through the bushes and trees, to avoid potentially aggressive dogs. Mack is friendly to all, but his primary concern is to be the protector of Emma. He adores her completely and she is clearly in charge.
Emma is now almost 11. She still has the prowess to find the cutest, tiniest antler of all time, but she does not chase the herd of elk that are two ridgelines away. She ran into a stick and got some stitches this weekend, and doesn't even mind being on the leash for walks. What a relief it is when a naughty dog gets old!
Emma is the Original Dog, the major-est pain, the biggest princess, the sweetest girl who only gets sweeter (and more of a princess). She's not the friend you would count on in a pinch, but she's the cool girl who will let you hang out with her (if you bring the treats).